Dare to have a real, authentic, positive-focused conversation that will bring a new level of intimacy, fun and understanding to you, your family and friends.
Dare to be surprised by your children, your friends, your family by playing with gratitude topic cards. Infuse your relationships with the uplifting quality that gratitude has on every single person. Through this game, you will become more conscious and aware of the blessings you already have.
In a world filled with negativity, materialism and the lie that more stuff will bring us happiness, Gratitude Topic Cards focuses our attention on the blessings we already have in our lives. The level of joy and contentment we all seek is not "out there" in some new electronic, gadget or the next accomplishment. This puts us in a constant cycle of striving for some future happiness that is elusive and always just out of reach. The sad part, is when we actually do receive this new gadget or reach a goal we have wanted, the celebration and joy is very short-lived until we get on the next cycle for what will bring us the joy we seek.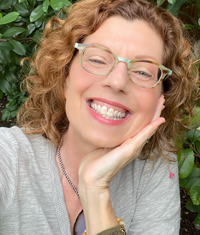 Michele Wahlder, MS, LPC, PCC, is an internationally recognized life coach, career counselor, psychotherapist and gratitude enthusiast. She is the founder of Life Possibilities, LLC, a company that champions people to become the highest vision they hold for themselves in their lives, careers and relationships through the vehicles of spiritually-oriented life coaching, books and card games.
Michele has created a fun, uplifting and heart-warming card game that features gratitude challenges and questions designed to:
Uplift conversations between families and friends.
Raise our awareness of life's daily gifts.
Refocus our attention towards appreciation of what we already
Based partially on her book Alphatudes: the alphabet of gratitude, she utilizes our earliest grade school victory—the ABCs—combined with thought-provoking questions to elicit a sustainable shift in our thinking and outlook on life. Sometimes complicated problems have simple solutions. Gratitude Topic Cards™ and Alphatudes: The Alphabet of Gratitude™, both reveal the unexpected and simple secret to living a joyful life: gratitude.