amazon.com
Each Gratitude Topic Card deck features over 100 "attitude of gratitude" challenges and questions to uplift your spirit, warm your heart and refocus your attention on the blessings in your life. Use these cards as daily personal reminders, or gather your friends and family for a lighthearted game that celebrates life, relationships and self-discovery. Topics are suitable and fun for all ages. Each deck contains 52 cards.

Alphatudes: The Alphabet of Gratitude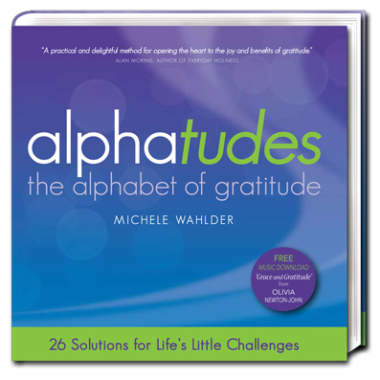 amazon.com
Alphatudes shares the practical, yet remarkable, secrets of embracing a grateful, positive outlook and approaching life's little challenges with grace, gratitude and hope. Resplendent with breathtaking illustrations, heartfelt prayers, uplifting affirmations and quotes, Alphatudes takes you on an extraordinary 26-step journey grounded in spiritual principles and universal human concepts. An inspiring guide that serves as a road map and a trusted companion on life's journey, Alphatudes: The Alphabet of Gratitude provides an uplifting, simple method for positively transforming your life … one day at a time. Find out more about Alphatudes…

Post-Cancer Treatment Celebration Banner

  Send an e-mail for purchase inquiry.
Introducing the Post Cancer Treatment Celebration Banner! Show how much you appreciate your friend or loved one's courage, tenacity and strength while going through cancer treatments by having this banner ready for them when they complete their treatment. This momentous achievement often passes without fanfare, when there should be celebration! Banners are 36″ x 10″, folds/stores easily and is made from lightweight material for easy presentation. It's an easy yet thoughtful way to show how grateful you are to have your loved one in your life.